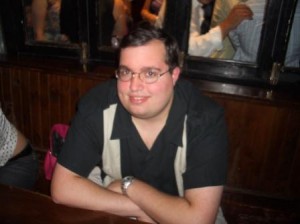 Nicholas Capobianco passed away June 12, 2008.
He was less than a month away from his 29th birthday.
Nick beat leukemia twice – once when he was a child, and again when it came back from remission a few years ago. The second time, he needed a bone marrow transplant, which left his immune system weak. Though he was fine for over a year, earlier this year he caught pneumonia, which caused irreversible damage to his lungs.
Nick was the best friend a guy could ever ask for. I realize that after most people pass away, they are probably remembered as the best friend/spouse/parent/etc. there ever was. But I stand by my statement. Nick was so selfless, caring, and thoughtful, and he would always be there for any of his friends, without question. His dedication to those he loved put him in a league all his own.
Everyone who knew Nick loved him – what was there not to like? He was shy but always friendly, and probably the most easy-going person I've ever met. In the decade plus that I knew him, I can't remember a single instance of the guy losing his temper, and that's one hell of an impressive feat. When some jerk tried to steal his soda at Roy Rogers, he just laughed it off. During a grueling track practice while the rest of us were whining, he would just run his hardest without a complaint. The constant teasing that guy friends do to each other, the kind that every once in a while can lead to a blow out, it never got to Nick. He always saw the lighter side of things, and life to Nick was just a string of good times with his friends and his family.
I don't know if he was so mellow because of his health battles or in spite of them, but I can't imagine anyone else taking on so much bad news with such an optimistic attitude. I know that personally, I wouldn't have had 1% of the courage that Nick had. His mom told me that before Nick lost consciousness, he gave a thumbs-up and said "No problem," certain that everything would be better soon. Those final words perfectly epitomize a man who always had hope and never gave up.
I keep asking myself why this would happen; how the nicest person I've ever known could be made to suffer so much, and be taken so young. It makes me angry, furious even, but I have to think that the world was extremely blessed to have Nick around for as long as we did. And hey, if Nick himself was able to keep such an optimistic point of view right to the end, what right do I have to be mad?
Nick, I miss you more than I can put into words. I know that you went peacefully, and I hope that you realize how much you meant to all your friends and family. I know you'll watch over all of us, but don't worry too much about us down here – your memory will always keep us strong, and your spirit will always be an inspiration.
Adapted from a post written on alannoah.com the day after Nick passed away.
Remembering Nick from Nick's Marathon on Vimeo.